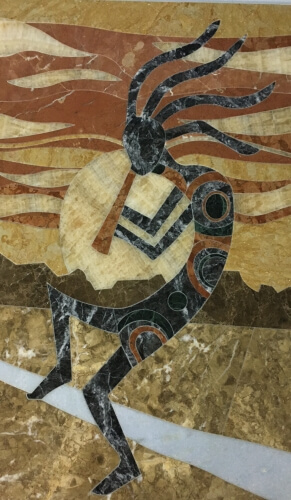 A custom design or logo will enhance the look of any flooring installation. National Metal Shapes has fabricated thousands of custom designs over the years and now we look forward to working on yours.
Our fabrication process begins with your design submittal. Your submittal should included the various specifications of your design:
Material(s) that the design will be constructed of: marble, granite, ceramic tile, metals (zinc, brass, aluminum, stainless steel), plastic, etc.
Overall Dimensions of the design (height, width, thickness, diameter, etc.)
A CAD file or high resolution image of the design is preferred, but we can work with what you have (a picture, line drawing, hand sketch, etc.).
Upon receipt of your design information, our graphic designers (Design Department) will provide a detailed quote and digital shop drawing for your review and approval. This quote process is usually within a 24 hour time frame.
Once you have approved the final design layout, we will begin fabricating your design utilizing our advanced water jet cutting technology. Detailed layout schematics and instructions will be included if necessary for ease of on site installation. upon completion, your finished design will be shipped promptly.
Please contact us today and together we can bring your design vision of Life!